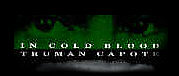 In Cold Blood
is Truman Capote`s exhaustive account of the murder of the Clutter family on their farm in Holcomb, Kansas on November 15, 1959, a sickeningly slow, aimless butchery for four ordinary human beings which netted the two murderers forty dollars and a small portable radio set.
The images of this tale continue to resonate in our minds: 16-year-old Nancy Clutter teaching a friend how to bake a cherry pie, Dick Hickock's black '49 Chevrolet sedan, Perry Smith's Gibson guitar and his dreams of gold in a tropical paradise- the blood on the walls and the final "thud-snap" of the rope-broken necks.
In Cold Blood was a huge "best seller" - Truman Capote takes you beyond the newspaper headline in this incredible novel. It is more than just a crime novel though. It's a slice of life!
Truman Capote's portrayal of one of the murderers, Perry Smith, is strangely a sympathetic one that belies the fact that Perry's dysfunctional family life and violent sexual abuse in the service had helped to create a monster.
In his recent biography of Truman Capote, George Plimpton points out that Capote fell in love with Perry Smith, and actually had a sexual relationship with him when Smith was on death row ...
Truman Capote`s life was a curious one, coming from a small town in Alabama. Short, and yet became a friend of the very highest levels of society, and from that point on, a descent through drugs and alcohol and disenchantment to his early death.
A remarkable arc, this great curve from lowly beginnings to extraordinary heights and then the descent ...

"When my son told the captain of his ship he was homosexual, he was informed that because of just saying he was gay, he could end up with a dishonorable discharge and lose everything he had ever worked for the four years he was in the Navy." - Dorothy Hadjys on her son, Petty Officer Allen R. Schindler, Jr., 22.
On October 27, 1992, Allen Schindler was brutally beaten to death in a public restroom in Sasebo, Japan, by two of his shipmates, Terry Helvey and Charles Vins. They beat and stomped Schindler to death because Schindler was gay.
Their attack was so vicious that they destroyed every organ in Schindlerís body. Allen Schindlerís mother could identify her son only by the remains of the tattoos on his arms. The medical examiner compared Schindlerís injuries to those sustained by victims of a fatal airplane crash or a high- speed automobile accident.