Jacques Benguigui was born on April 13, 1931, in Oran, Algeria, but the family moved to Marseilles, France, shortly before WW2. His mother was deported to Auschwitz in Poland on July 31, 1943, and Jacques and his two younger brothers, Richard, six years old, and Jean-Claude, who was five, were sent to be sheltered in the Children's home in Izieu.
Jacques and his brothers were safe until the raid of April 6, 1944, by the Lyon Gestapo, headed by Klaus Barbie. The children were deported to Auschwitz on April 13, 1944, Jacques's 13th birthday, one of the last transports from France. On May of 1944 the children were murdered in the gas chambers of Auschwitz. Jacques was one of the 1.5 million children killed during the horrors of the Holocaust.
While in Izieu Jacques wrote a letter to his mother:
O Maman, my dear Maman, I know how much you've suffered on my account and on this happy occasion of Mother's Day I send you from afar my best wishes from the bottom of my little heart. So far from you, darling Maman, I've done everything I could to make you happy: when you've sent packages, I've shared them with the children who have no parents. Maman, my dear Maman, I leave you with hugs and kisses. Your son who adores you. Jacques.
The Children's Home was a perfect idyll and the Jewish children led a happy life with plenty of time for playing, drawing and painting, as these sketches show, made by the Izieu children:





The children's feelings of security collapsed, however, when the brutality of the Nazis accelerated with murder, violence and terror. On the morning of April 6, 1944, it was all over ...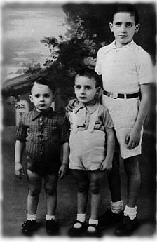 Jacques, right, with his little brothers Richard and Jean-Claude

I recommend the books:


French Children of the Holocaust: A Memorial
, by Serge Klarsfeld. New York University Press. 1,904 pp. 2,500 photographs.

The Children of Izieu: A Human Tragedy
, by Serge Klarsfeld. New York, Abrams: 1984
Photographs from French Children of the Holocaust A Memorial by Serge Klarsfeld
Musee Memorial des Enfants d'Izieu - www.izieu.alma.fr
The Simon Wiesenthal Center - www.wiesenthal.com