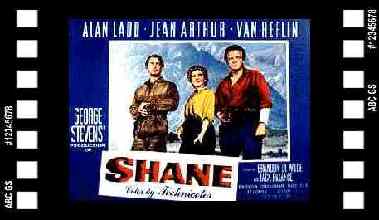 Perhaps the best Western ever made, Shane is set within an actual episode in the history of the American West and has all that one desires to experience in a western: breathtaking scenery, riding, rodeo, fighting, gunfights ...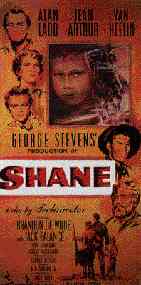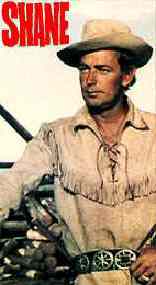 This classic film is about a quiet gunfighter who defends homesteaders from a gang of thugs. Based on the novel by Jack Schaefer. Academy Award Nominations: 6, including Best Picture, Best Director, Best Screenplay, Best Supporting Actor - Jack Palance, Best Supporting Actor - Brandon de Wilde. Academy Awards: Best Cinematography.
A buckskin knight, Shane (Alan Ladd) rides into the middle of a range war between farmers and cattlemen, quickly siding with the "sod-busters." The title character is a taciturn former gunslinger who wishes only to settle down and put the past behind him. But as ruthless ranchers bring a diamond-hard hired gunman to the frontier town to scare off his adopted family, Shane realizes that he's the only law available to protect the innocent farmers.
To illustrate the visceral effect of the violence, director George Stevens had the sounds of gunshots magnified on the soundtrack: nothing like this had been previously attempted in mainstream Hollywood and the results were galvanizing. Here were gunfights and fisticuffs in which people were visibly hurt and even killed. The risks and inevitable emotional toll of the profession gives Shane's silence immense power and offers a side of the western movie hero seldom seen to that point.
Shane discovers the Starretts (Jean Arthur and Van Heflin), a pioneer farm family looking for a hired hand. Suddenly, Ryker and his posse of gun-toting ruffians ride by and threaten to run Starrett off his farm. Ryker, a ruthless businessman, has been trying to rid the valley of homesteaders so he can expand his ranch. After witnessing this brutality, Shane decides to stay on and help out. Provoked by Ryker's boys, Shane joins the homesteader's fight, facing off with a hired gunslinger to make the valley safe for civilized folks like the Starretts.While helping Shane falls in love with the wife but he keeps his distance out of respect for the husband - sensitively portrayed.
Though the showdowns are exciting, and the story simple but involving, what most people will remember about this movie is the friendship between the stoical Shane and the young son of the farmers.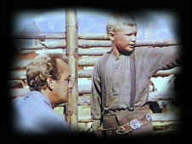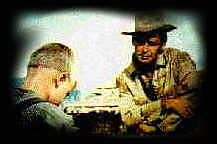 Alan Ladd and Brandon de Wilde
The kid is played by Brandon De Wilde, who gives one of the most amazing child performances in the movies. In one of the key scenes of the film, Joey is awakened by the noise of a deer eating in the garden planted outside his window by his mother. He grabs his rifle, races outside in his nightshirt, and fires imaginary shots at the intruder. He finds Shane bedded down in the barn and hesitantly asks about Shane's future plans - he is anxious to learn how to shoot from him before his departure. Speaking on behalf of his parents, Joey invites him to settle down with them for a while:
I wish you'd stay here. Will you teach me to shoot? Pa wishes you'd stay too. I heard him tell Mother. He said he didn't want you to fight his fights for him, but just help with the work. I'll bet you wouldn't leave just because it's too dangerous around here.
Later in another moving scene Joey tells his mother, as she tucks him into bed behind the closed door of his room, of his admiration and love for Shane - within earshot of Shane:
Joey: Mother, I just love Shane.
Marion: Do you?
Joey: I love him almost as much as I love Pa. That's alright, isn't it?
Marion: He's a fine man.
Joey: He's so good. Don't you like him, Mother?
Marion: Yes, I like him too, Joey.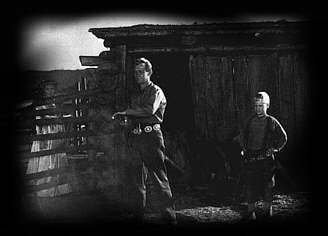 Shane and Joey
And his parting scene with Shane is guaranteed to draw tears from even the most stonyhearted moviegoer. When the violence is done, Shane rides off into the dawn, wounded and alone. He knows that his dream has passed him by. The dawn symbolises the new era of peace and prosperity in the valley.
Joey: Shane! I knew you could, Shane. I knew it. I knew it just as well as anything. Was that him? Was that Wilson?
Shane: That was him. That was Wilson alright. He was fast - fast on the draw. Joey, what are you doing here?
Joey: I'm sorry, Shane.
Shane: You don't have to be. You'd better run back.
Joey: Can I ride home behind you?
Shane: Afraid not, Joey.
Joey: Please, why not?
Shane: I gotta be goin' on.
Joey: Why, Shane?
Shane: A man has to be what he is, Joey. You can't break the mold. I tried it and it didn't work for me.
Joey: We want you, Shane.
Shane: Joey, there's no living with, with a killing. There's no going back from it. Right or wrong, it's a brand, a brand that sticks. There's no going back. Now you run on home to your mother and tell her, tell her everything's alright, and there aren't any more guns in the valley.
Joey: Shane, it's bloody. You're hurt.
Shane: I'm alright, Joey. You go home to your mother and your father. And grow up to be strong and straight. And Joey, take care of them, both of them.
Joey: Yes, Shane.
Tears well up in Joey's eyes, then Shane rides off into the twilight meadow toward the distant hills framed against the sky and mountains, growing smaller and smaller in the distance. Young, anguished, and heartbroken Joey sadly calls out to his hero in one of filmdom's most famous and haunting endings, as tears streak down his face:
Pa's got things for you to do, and Mother wants you. I know she does. Shane. Shane. Come back. 'Bye, Shane ....
Joey's call echoes across the valley .... a heartbreaking moment.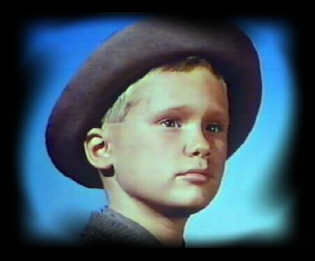 Brandon de Wilde
Brandon De Wilde, in his career debut, earned himself a nomination as best supporting-actor - he deserved that nomination. A precocious seven-year-old, who appeared wise much beyond his years, he rose to fame as the poignant young ward of Ethel Waters in Carson McCullers' "Member of the Wedding," a major Broadway hit that later became a highly popular motion picture, with both Waters and De Wilde repeating their award-winning roles.

De Wilde made only eight motion pictures in a career that was cut short when he was killed in a traffic accident in Lakewood, Colo., July 6, 1972. But, for the most part, the films were solid hits. "Member of the Wedding" and "Shane" were rapidly followed by "Night Passage," "Blue Denim," "All Fall Down," "Hud," "In Harm's Way" and, as an adult, "Those Calloways." Sadly, aside from the television series, "Jaimie," which aired in the l953-54 season, he was just beginning to grow into leading man roles when he died.
Alan Ladd was ideally cast as a good man trying to leave his days of gunplay in the past.

Shane and Ladd were made for each other, and the union created one of the biggest hits of Ladd's, AND his most likable screen character ever.
As the titular, mythic bringer of justice, Alan Ladd gives the performance of his career and should have been nominated for an Oscar. But because he was leaving Paramount for Warner Bros., his ex-studio punished him by refusing to push his name with the Motion Picture Academy.
After Shane, Ladd continued making films until his death at age 50 January 29, 1964, in Palm Springs, California. A death caused in part by his recurring problems with alcohol.



Alan Ladd with his son, David
His last film was the Carpetbaggers which was one of his best performances. But he will always be remembered as the introspective and lonely hero from Shane ...
His fellow actor Van Heflin seemed to understand the demons that haunted Alan Ladd and the movie gave an enduring friendship. Van Heflin was a stabilizing anchor to the slim, blond superstar who never got over his insecurities and fear that fame and fortune could disappear overnight. Once, while undergoing an interview, Ladd became angry and uncooperative. Van Heflin arrived and managed to smooth the troubled waters.
On July 6, 1971, Van Heflin was stricken with a heart attack while swimming. He somehow managed to get to the pool's ladder, where he held on until found later in the day. Rushed to the hospital by paramedics, he lay unconscious for days, apparently never regaining consciousness.
| | |
| --- | --- |
| | Van Heflin died at Cedars of Lebanon Hospital on July 23, 1971. He was 60 years old. |
Jean Arthur made a great - and her final - film performance in Shane. She started in films during the silent era and made her silent screen debut in 1923's Cameo Kirby. But her husky voice, her versatility and adeptness at comedy had, by 1936, made her a top box office draw. Jean Arthur achieved her greatest fame in Frank Capra's films in the 1930's - she was Capra's favorite actress.
In the 1960s and 70s, Jean Arthur starred in her own television series, The Jean Arthur Show, and made a few appearances on Broadway. She also taught drama at Vassar College.
| | |
| --- | --- |
| | Jean Arthur died at the age of 90 on June 19, 1991 in Carmel California. |
Finally Jack Palance, who made a sensational impression as the evil gunslinger sent to clean house. His archetypal western villain has fewer lines of dialogue than he has lines in his magnificently craggy face, but he makes them count. He is dark, dresses in black, black hat, black gloves and black vest, and even drinks black coffee from a blackened pot.
His performance as Wilson earned him an Oscar nomination in 1953. Jack Palance went on in his career to become the most prominent and enduring villain in movie history. His sneering arrogance and haughty gait made him the villain we loved to hate for decades. His many film credits include besides "Shane", "The Professionals", "Batman", and "City Slickers", for which he won the Best Supporting Actor Oscar in 1991.
| | |
| --- | --- |
| | Jack Palance has been a TV and motion picture actor now for more than 40 years. |
Born 18 February 1919 in Lattimer Mines, PA, Jack Palance worked in the coal mines in his youth, and was also a boxer. He was in B-24 transition training at Davis Monthan Field, AZ, when he was severly injured in a training crash. He has a degree in journalism from Stanford University.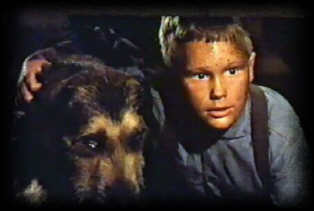 THE classic western - even the dog was great, e.g. the way it watched the last gunfight ...

Directed by
George Stevens

Starring
Alan Ladd (Shane)
Jean Arthur (Marian Starrett)
Van Heflin (Joe Starrett)
Brandon De Wilde (Joey Starrett)
Jack Palance (Jack Wilson)
Ben Johnsen (Chris Calloway)
Edgar Buchanan (Lewis)
Emile Meyer (Rufus Ryker)
Elisha Cook Jr. (Frank Torrey)
Douglas Spencer (Mr. Shipstead)
John Dierkes (Morgan Ryker)
Ellen Corby (Mrs. Torrey)
Paul McVey (Grafton)
John Miller (Atkey)
Edith Evanson (Mrs. Shipstead)
Leonard Strong (Ernie Wright)
Ray Spiker (Johnson)
Janice Carroll (Susan Lewis)
Martin Mason (Howells)
Helen Brown (Mrs. Lewis)
Nancy Kulp (Mrs. Howells)
Howard Negley (Pete)
George J. Lewis (Ryker Man)
Chester W. Hannan (Ryker Man)
Bill Cartledge (Ryker Man)
Steve Raines (Ryker Man)
Ewing Miles Brown (Ryker Man)
Rex Moore (Ryker Man)
Charles Quirk (Clerk)
Jack Sterling (Ryker Man)
Beverly Washburn (Ruth Lewis)
Henry Wills (Ryker Man)

Written by
Jack Schaefer (story)
A.B. Guthrie Jr.
Jack Sher
---
www.auschwitz.dk www.oskarschindler.com www.shoah.dk
source: Tim Dirks - Greatest Films