Part 2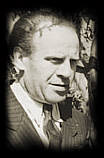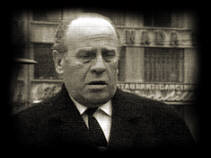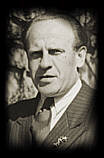 But Oscar Schindler met with no success, and in 1957 he became bankrupt and travelled back alone to Europe. He never saw Emilie again ...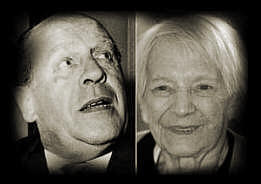 Oscar and Emilie
Emilie Schindler died Oct. 5, 2001, 94 years old. For 50 years she lived in her little house in San Vicente 40 kilometres south-west of Buenos Aires with her cats, dog, and beautiful roses. Only the uniformed Argentinean police disturbed the idyll. They were posted 24 hours a day to protect the old lady from antisemitic and ultraconservative extremist groups.
But in her A Memoir Where Light And Shadow Meet Emilie tells about her inner thoughts, when she visited Oscar's tomb, over thirty-seven years after he left:
"At last we meet again .. I have received no answer, my dear, I do not know why you abandoned me .. But what not even your death or my old age can change is that we are still married, this is how we are before God. I have forgiven you everything, everything .. "
Oscar Schindler settled down in at little apartment Am Hauptbahn Nr. 4 in Frankfurt Am Main in West Germany and tried - again with help from the Jewish organization - to establish a cement factory. This was not a success either, and it went bankrupt in 1961. In 1962, after Oscar Schindler was honored by Israel as a Righteous Gentile, his business partner in Germany canceled the partnership saying, ' ... now it is clear that you are a friend of Jews and I will not work together with you any more ...'
Abraham Zuckerman and Murray Pantirer, New Jersey real estate developers who were boyhood friends in Cracow, Poland, and were rescued by Schindler, re-established contact with Oscar Schindler in the 1950s, when they began their careers as real estate developers in New Jersey. They sponsored visits by Schindler to the U.S., treating him as a member of their families and helping him financially during the post-war period when he found it difficult to re-establish himself.
And his life was totally dependent on gifts and money from the Jews he saved. His close colleague and friend Poldek Pfefferberg encouraged every single Schindler Jew to donate one day`s pay a year. Another friend Moshe Beijski - also a Schindler Jew - who later became a high court judge in Israel, could lovingly recount how if you sent Schindler 3,000 dollars, he would have spent the money in two to three weeks. And would ring up after that and say that he didn`t have a cent.
In 1961, the year the war criminal Adolf Eichmann was brought to trial in Jerusalem, a group of Jews invited Schindler to visit Israel. The visit aroused great interest, coupled with the trial of Eichmann, and great efforts were made to have Schindler honoured as "righteous". The honour came the following year on the day of his birthday, when he was invited to plant a tree in the Avenue of the Righteous.

But reactions in Germany were quite different! Schindler`s clear indictment of German war criminals in the trials after the war nourished the hatred that many felt for him. He was persecuted, he was sworn at on the streets, and stones were thrown at him.
It was said that he was their bad conscience - the conscience of all those who had known something but done nothing.
Schindler boxed the ears of a factory worker who called him a "Jew kisser", but achieved nothing other than being dragged into court on a count of violence, where the judge gave him a lecture on jurisprudence.
In a letter to one of his Jews, Schindler wrote, "I would have taken my own life, if it would not have given them so much satisfaction ...."
| | |
| --- | --- |
| Oscar Schindler was persecuted in Germany | |
Every spring from 1961 until his death in 1974, Schindler Jews invited him to Israel for a couple of months, where all imaginable and unimaginable expenses were paid. Every year there were tumultuous scenes when his Jews gathered together to bid him welcome. Here he rejoiced over life, accompanied by his mistress, sleeping late every day and holding court with his friends, enjoying vodka and double cognacs in a street cafe in Tel Aviv.
His friend Martin Gosch lovingly wrote to him: "I hope the fact that you have taken an apartment in Frankfurt does not mean that you are carrying on with too many women. (One is enough! Remember, dear friend, we are no longer as young as we used to be!)."
On the 28th of April every year a large number of his Jews gathered together to celebrate his birthday. He always waited until everyone was seated, after which he made a magnificent entry and embraced the children. A Schindler Jew recounts that he loved the children like his own family. "He asked every one of us who had children to send photos with name, birth date, and how much they weighed. He never asked for anything for himself - but always asked about the children."
Oscar Schindler was honoured and revered everywhere by his Jews. In Jerusalem a floor of the The Harry S. Truman Research Institute for the Advancement of Peace was dedicated to Schindler in the beginning of the 1970s for his efforts.
Murray Pantirer lost both his parents, two sisters and four brothers during the war. They were all murdered by the Nazis in the Holocaust. He was liberated as a 20-year-old Schindler Jew in 1945 as the only survivor and after the war, together with his friend and associate Abraham Zuckerman, built up a great fortune as a magnate in the United States . They honoured Schindler in their own special way. Every time a new town district was planned and built, at least one street was named after Schindler! In New Jersey alone there are 21 Schindler Streets, and even a Schindler Plaza.
Even today when the children have taken over the business, this entirely special mark of honour for Schindler continues .....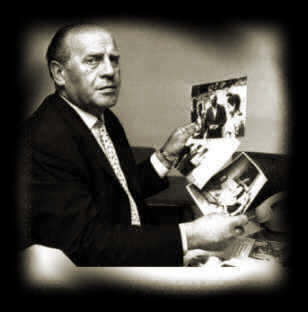 "He asked every one of us ... to send photos ..."
When asked, Schindler told that his metamorphosis during the war was sparked by the shocking immensity of the Final Solution. In his own words: "I hated the brutality, the sadism, and the insanity of Nazism. I just couldn't stand by and see people destroyed. I did what I could, what I had to do, what my conscience told me I must do. That's all there is to it. Really, nothing more."
Oscar Schindler died of liver failure in Frankfurt on the 9th of October, 1974, at an age of 66. From 1939 to the day he died he was such in love with his Jewish people, that he wanted to be buried in Jerusalem. Poldek Pfefferberg asked him shortly before he died, why he wanted to be buried here. He answered :"My children are here ....."
In faithful acquiescence with his wishes, his earthly remains were taken to Israel, where his lead coffin was carried through the streets of Jerusalem.
Schindler - to be honest not one of the most devout sons of the church - was buried in the Catholic churchyard on Mount Zion in Jerusalem, in the presence of hundreds of weeping Schindler Jews.
Oscar Schindler was mourned on four continents ...
October, 1999, the list of Jewish employees drawn up by Oscar Schindler to save them from Nazi death camps was discovered in a suitcase full of papers left to a German couple, the german newspaper Stuttgarter Zeitung reported. Stuttgarter Zeitung said it planned to give the suitcase to Yad Vashem. The gray Samsonite suitcase with a tag that reads "O. Schindler" was given to the newspaper by a couple who found it while cleaning the home of their late parents. The family had been close friends of Schindler. A former neighbor of Schindler's in Frankfurt, Dieter Trautwein, confirmed that Oscar Schindler spent the last months of his life in Hildersheim with his friends after becoming ill.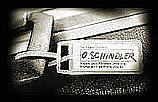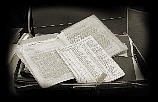 The Stuttgart couple found the list of 1,200 workers among the papers, which deal mainly with his life after World War II, his relationship to his German fellow citizens, his problems with alcohol and womanizing and his connections with Israel and with German Jews. The papers include an exchange of letters from the 1940s through the 1960s and a speech given by Schindler at the end of the war, urging the Jews from his factory not to take violent revenge.
The list is on letterhead for Schindler's enamelware factory in Crakow, southern Poland. Schindler wrote the names of 1,200 Jews at the Plaszow concentration camp and gave it to the Nazi SS, saying the people on the list were needed for employment at his factory in Crakow, Poland, said Mordechai Paldiel, who heads the department at Yad Vashem that researches and honors Gentiles. Schindler added fictitious jobs for each worker to convince Nazi officials that they were vital to the war effort and should live. One copy presumably was saved in SS archives, and Schindler may also have kept a copy, said Paldiel.
Michel Friedman, whose parents were saved by Schindler, said the newfound letters are important because they "confirm that his economic situation after World War II was very bad, and the only ones who helped him were the Jews and not the German government, which paid pensions to old Nazis."
"Schindler was a guest of honor at my bar mitzva and he was at our house for Sabbath dinners, said Friedman, a Frankfurt attorney and member of the Central Council of Jews in Germany.
The papers, contained in the suitcase, also have an unpleasant message for Germans: They show how a man known for rescuing Jews was isolated and rejected by his fellow citizens after World War II.
"For the Germans today, Oscar Schindler is a very positive example," said Stefan Braun, a reporter for the Stuttgarter Zeitung. "But after the war, people were not really interested in knowing about his story. In one of his letters from 1948, he says, 'There is a neo-Nazism coming from the east. Nothing has changed and it is worse.' " Braun said.
"The letters show how he learned that after the war Germany was not interested in looking at what happened during the Holocaust", Braun said. "He was very unhappy that Germans were not interested in the history, didn't want to hear about it. And they were angry that he had made a good impression in Israel."
"The suitcase is very old; it has a lot of trips behind it," Braun said. "When you open it you see a lot of old papers, very old letters. No one writes such letters any more today and no one collects them, either. It was completely disorganized."
Reading Schindler's papers gave him "the feeling of being intimate with someone I never saw. He was a very open-minded and free-speaking person. He said what he was thinking. He was balancing between a lot of hopes, a lot of disappointments."
For Braun, it was fascinating to read about the failed Metro-Goldwyn-Mayer film project based on Schindler's story. Though Schindler did get some advance money from the project, it was canceled in 1966. "Of course he was devastated," Braun said. "That was the end of the final hope."
The unearthing of these papers belonging to Oscar Schindler in Germany is one of several recent tangible reminders that the Holocaust is not ancient history ...

The ending of the screenplay by
Steven Zaillian
First Revision
March, 1990
Frankfurt Am Main, Germany, 1955
A street of apartment buildings in a working class neighborhood of the city. The door to a modest apartment opens revealing Oscar Schindler. The elegant clothes are gone but the familiar smile remains.
OSCAR SCHINDLER:
Hey, how you doing?
It's Poldek Pfefferberg out in the hall.
PFEFFERBERG:
Good. How's it going?
SCHINDLER:
Things are great, things are great.
Things don't look so great. Schindler isn't penniless, but he's not far from it, living alone in the one room behind him.
PFEFFERBERG:
What are you doing?
SCHINDLER:
I'm having a drink, come on in, we'll have a drink.
PFEFFERBERG:
I mean where have you been? Nobody's seen you around for a while.
SCHINDLER:
(puzzled)
I've been here. I guess I haven't been out.
PFEFFERBERG:
I thought maybe you'd like to come over, have some dinner, some of the people are coming over.
SCHINDLER:
Yeah? Yeah, that'd be nice, let me get my coat.
Pfefferberg waits out in the hall as Schindler disappears inside for a minute. Schindler reappears wearing a coat, steps out into the hall, forgets something, turns around and goes back in.
He comes back out with a nice bottle of wine in his hand, and, as he and Pfefferberg disappear down the stairs together –
SCHINDLER:
Mila's good?
PFEFFERBERG:
She's good.
SCHINDLER:
Kids are good? Let's stop at a store on the way so I can buy them something.
PFEFFERBERG:
They don't need anything. They just want to see you.
SCHINDLER:
Yeah, I know. I'd like to pick up something for them. It'll only take a minute.
Their voices fade. Against the empty hallway appears a faint trace of the image of the factory workers, through the wire, walking away from the Brinnlitz camp. And the legend:
There are fewer than five thousand Jews
left alive in Poland today.
There are more than six thousand descendants
of the Schindler Jews ..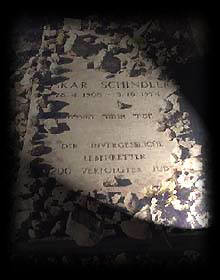 ---
sources:
Toby Axelrod, Jewish Telegraphic Agency
USHMM
www.auschwitz.dk Louis Bülow Privacy. ©2009-11.