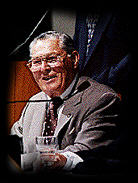 Poldek Pfefferberg was born in 1913 in Crakow, Poland. He attended high school in Crakow and earned a masters degree in philosophy and physical education from Crakow University. He taught high school in Crakow until 1939 when the Germans closed all Jewish schools.

Pfefferberg fought in the Polish Army against the Nazis with the rank of lieutenant and was wounded and arrested. He escaped and went to his mother`s house in Crakow. One day, in November 1939, a man knocked on the door, and Pfefferberg thought it was the Gestapo. It wasn`t. It was Oscar Schindler, a Sudeten-German businessman who had purchased an enamelware factory that had been confiscated from Jews. Schindler had come to ask Pfefferberg`s mother, an interior designer, to redecorate his new apartment.
"I was hiding in the next room", Pfefferberg later said, "but listening to Schindler, I knew he wasn`t Gestapo. Even then I could tell he was a good man. I began to talk to him and we became friends."
Saved by Schindler
Pfefferberg began to work a little for Schindler, procuring rare commodities for him on the black market. In 1940, he met Ludmila Lewinson, and the two were married in the Crakow ghetto, where Jews were confined. They subsequently worked for Oscar Schindler in his factory. Schindler promised the Jews who worked for him that they would never starve, that he would protect them as best he could. And he did, building his own workers barracks on the factory grounds to help alleviate the sufferings of life in the nearby Plaszow labor camp. He gave safe haven to as many Jewish workers as possible, insisting to the occupying Nazi officials that they were "essential workers", a status that kept many from certain death.
And Ludmila and Poldek were saved - the rest of Pfefferberg`s family was not as lucky - almost 100 perished including his parents, sister and brother-in-law.
"Oscar Schindler was a modern Noah", Pfefferberg said, "he saved individuals, husbands and wives and their children, families. It was like the saying: To save one life is to save the whole world. Schindler called us his children. In 1944, he was a very wealthy man, a multimillionaire. He could have taken the money and gone to Switzerland ... he could have bought Beverly Hills. But instead, he gambled his life and all of his money to save us ..."
Post war life
After the Liberation in Mai, 1945, Poldek and Ludmila had gone first to Budapest and eventually to Munich where Poldek - a physical education instructor before the war - organized a school for displaced children. Oscar Schindler, too, had settled in Munich where his best friends, the people he regarded as "his children", were the Jews he had helped survive.
It was there, in the midst of a card game, that Poldek Pfefferberg made his promise, vowing he would tell the world what had happened, how even on the days when the air was black with the ashes from bodies on fire, there was hope in Crakow because Oscar Schindler was there ...
After two years Pfefferbergs emigrated to the United States. They settled in Los Angeles in 1950 and opened a repair shop and leather goods business in Beverly Hills. Because of its location, the shop`s customers were often people in the entertainment industry - writers, producers, agents. And not one of them ever left without Poldek Pfefferberg - now Leopold Page - telling, or at least trying to tell them about Oscar Schindler, hoping they would turn the story into a book or a film.
Thirty years later, he doggedly told the Australian author Thomas Keneally the tale of Oscar Schindler, the man who saved his life.The result has been a best-selling book and a movie which was nominated for 12 Academy Awards.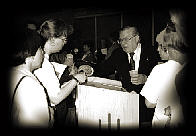 It all began in 1980, when Keneally was in Italy for an Australian film festival, and was scheduled to return to Australia through the Persian Gulf and Singapore. Instead, his publisher called him to the United States for a book tour. He wound up in Los Angeles, and in those days there were only two flights per week to Australia, for adventurous space travelers.

He decided to replace his briefcase. Standing outside Poldek Pfefferberg's store, he was ushered out of the 105-degree heat by Pfefferberg. A quick purchase was delayed by the Australian credit card he tried to use.
In the 20-minute delay, Pfefferberg found out that Keneally was a writer, and immediately started telling him about Oscar Schindler and he took him to the back of the store where he had a filing cabinet.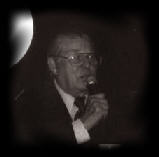 This was not the first time Pfefferberg had told a customer about Schindler in hopes of publicizing the story. In the 1960s, the wife of an MGM executive was in the store. Pfefferberg held her handbag hostage until she agreed to introduce him to her husband. Poldek Pfefferberg worked on anyone who ever came into his store who was connected with the media or theater.
There were a few television interviews with Schindler that Poldek Pfefferberg set up around Los Angeles in the 1970s. "I was able to inherit the material when Poldek captured me," Keneally later said. The story captured Keneally's interest. He was immediately taken with the paradoxical character of Oscar Schindler, a tall, handsome German, a chain-smoking bon-vivant who bought a previously Jewish owned factory and saved its Jewish slave laborers.
Oscar Schindler saved the lives of more than 1, 300 Jews during World War II. Today there are more than 6,000 descendants of
Schindler`s Jews
living in the USA and Europe, and many in Israel. Before the Second World War, the Jewish population of Poland was 3.5 million. Today there are between 3,000 and 4,000 left.

Louis Bülow

sources:
The Southern Shofar
Beacon Journal
The Jewish Times