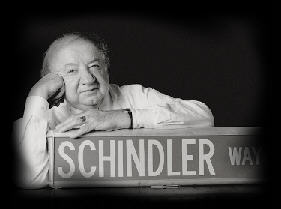 Abraham Zuckerman was born and raised in the Polish city of Cracow. He spent his teenage years in Nazi concentration camps and at the end of World War II came to the United States, where he began a new life. He grew up as a religious observant Jew, and his experiences of evil and suffering during the holocaust years strengthened rather than weakened his faith. His survival was due to his being assigned to a factory run by
Oscar Schindler
, the German industrialist who at great personal risk saved twelve hundred Jews from extermination.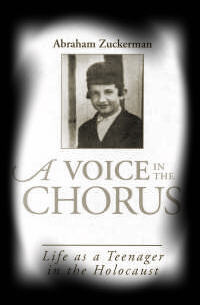 In recent years Abraham Zuckerman has devoted himself to memorializing this noble act. Zuckerman published his memoirs in 1991. His "A Voice in the Chorus" is a moving and powerful addition to the library of works on the holocaust.

Oscar Schindler's work only really became known after the publication in 1982 of Keneally's winner of the Booker Prize, Schindler's Ark, and subsequently from the 1993 Spielberg film, Schindler's List, that won seven Oscars. Zuckerman spent time during the war in a total of seven concentration camps, never hearing about Oscar Schindler until he was sent as a worker to his factory in Emalia in 1943.
"The moment that I arrived, I knew that my life had changed," Abraham Zuckerman later recalls. "There was food and mountains of potatoes. One never went hungry ..."
Slowly as the brutality of the Nazis accelerated with murder, violence and terror, the seeds of their plan for the total extermination of the Jews
The Holocaust
dawned on Oscar Schindler in all its horror - he came to see the Jews not only as cheap labour, but also as mothers, fathers, and children, exposed to ruthless slaughter.
Saved by Schindler
Desperately Schindler exerted his influence on his contacts in the military and industrial circles in Crakow and Warsaw and finally went to Berlin to save his Jews from a certain death. With his life as the stakes, he employed all his powers of persuasion, he bribed uninhibitedly, fought, begged ...
Where no-one would have believed it possible, Schindler succeeded. He was granted permission to move the whole of his factory from Plazow to Brinnlitz in occupied Czechoslovakia and furthermore, unheard of before, take all his workers with him. In this way, the 1,098 workers who had been written on Schindler`s list in connection with the removal avoided sharing the fate of the other 25,000 men, women and children of Plazow who were sent without mercy to extermination in the gas chambers of Auschwitz, only 60 kilometers from Plazow.
"The movie showed one thing, but there were other things that he did in camp, little things," says Zuckerman. "He was a chain smoker, so he used to take a puff and throw it away, a puff and throw it away. For the survivors, the people who were smoking, it meant a lot to them to pick it up and have a puff. He would do it on purpose, knowing that people would pick it up."
He couldn't just give them cigarettes or extra food because there were Nazi guards in the factory who might squeal if they witnessed behavior deemed too humane; indeed, says Zuckerman, Schindler was arrested a couple of times because somebody reported him.
Despite the conditions, Oscar Schindler was always a perfect gentleman to the inmates, he says. "He bowed to you, and he said good morning to you," Zuckerman says, which may not sound like much of a favor, but to those beaten-down Jews, that small acknowledgement of their dignity gave them enormous hope.
Post war life
After World War II, Zuckerman re-established contact with Oscar Schindler in the 1950s, when he began his career as real estate developer in New Jersey together with Murray Pantirer. They have named more than 25 streets for Schindler in their developments in New Jersey. They also sponsored visits by Schindler to the U.S., treating him as a member of their families and helping him financially during the post-war period when he found it difficult to re-establish himself.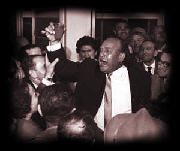 For Abraham Zuckerman's daughter, Ruth Katz, that history was a living history. She remembers Oscar Schindler, "Uncle Oscar", coming to visit when she was a child and staying at her home, where she would talk to him in Yiddish while he would answer in German. "He would always pat the back of my head," she says. "He loved children; he would always call us 'kinder, kinder.'"
Katz says though she grew up as a child of Holocaust survivors, in her house there was no sadness and there were no horror stories. "Everything was music, happiness, they never talked about the bad things. And then the movie comes out, and I say to myself, 'My God! This is what they went through! This man really did save their lives.' When I tell people now that my father was a Schindler Jew, they can't believe it, they're in awe: 'Your father was really saved by Schindler?'
"The stories were always told to us when we were little, how he saved them, and what he did. But when you're a kid, you think they're stories. Some people's parents put their kids on their lap and told them bedtime stories; my father put us on his lap and told us how wonderful this man was to him.
When Schindler died
"I remember the day Oscar Schindler died, I was a freshman in college in my dorm. It was one of the saddest days, because I had never really experienced any sadness with my parents. I had never seen my father mourn anyone, because he didn't have anyone to mourn. And he really mourned him. It was a really really traumatic time for him. They were really sad, they had a loss that they hadn't experienced since the war."
Zuckerman, who always visits Schindler's grave on Jerusalem's Mount Zion when he comes here, maintains that "there's still not enough being done for Oscar Schindler, because of the enormous thing that he did. If you talk to any of the
Schindler survivors
, they'll all tell you that."
Abraham Zuckerman is the father of three children and grandfather of eight. He holds leadership positions with a number of Holocaust organizations and museums. He is satisfied that he at least kept his hero solvent towards the end of his life, and that now everyone knows the story he'd been trying to tell for so many years.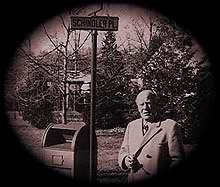 "Every time he came to America, I took him around to the real estate projects, I showed him the streets named after him, and to the engineers, the architects, just to introduce him. Today they tell me, 'If I'd only known who you brought to my place ...."
Louis Bülow
sources:
New Jersey Jewish News
Dispatch Online
The Jerusalem Post