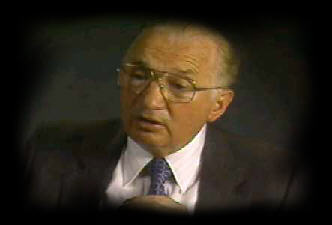 Mejzesz Puntierer - today Murray Pantirer - was born in June 1925 as the second of seven and grew up in Cracow, Poland. He attended afternoon Hebrew school, but the Germans occupied Crakow in 1939 and the family separated several times in search of food and other necessities. Finally the family was confined to the Crakow ghetto. In 1942, Murray and a brother were deported for forced labor in Plaszow. In May 1944, his brother was sent to Auschwitz. That year, Murray was transferred to Gross-Rosen and to Brunnlitz to work for
Oscar Schindler
.

Schindler employed Jews in his enamelware and munitions factories. Pantirer was chosen as one of 900 workers at Schindler's munitions factory in Czechoslovakia. He remained there from October 1944 to May 1945, when the survivors at the factory were liberated.


Pantirer remembers the time someone in Brunnlitz stole some potatoes. "An SS man put a potato in his mouth; he had to stand outside like that in the cold weather, and it was written on him 'I'm a potato thief.' "When Schindler saw it, he took the potato out of his mouth, and said to the guy, 'go back to your work.' And he told the SS man, 'In my camp you don't do those things.'"
And Pantirer retells the well-known story of Oscar going to rescue a trainload of frozen Jews, and says Emilie Schindler helped nurse them back to health, cooking for them and tending to their needs. When a young girl died one day, Oscar Schindler bought a piece of land and allowed her to be buried according to Jewish law.
Schindler`s factory
At his factory, workers were only half as hungry as in other camps - meals at Schindler`s had a calorie count of 2000 as against 900 in other places. When food supplies were critical, Schindler used great sums of money purchasing food supplies on the black market.
At his factory the old were registered as being 20 years younger, children were registered as adults. Lawyers, doctors and artists were registered as metal workers and mechanics - all so they could survive as essential for the war industry.
At his factory, nobody was hit, nobody murdered, nobody sent to death camps.
Until the liberation of spring, 1945, Oscar Schindler used all means at his disposal to ensure the safety of his Schindler-Jews. He spent every pfennig he had, and even Emilie Schindler`s jewels were sold, to buy food, clothes, and medicine. He set up a secret sanatorium in the factory with medical equipment purchased on the black market. Here Emilie Schindler looked after the sick.
To this day, Pantirer, teenager during the war, remains mystified how his name appeared on
Schindler's list
. Pantirer was listed as a sheet metal worker, an occupation about which he said he knew nothing. Murray Pantirer was liberated in 1945, the only one of nine family members to survive.
Post-war life
After the war, Pantirer spent a couple of years in an Austrian refugee camp at Bindermichel, emigrating to the United States in 1949, where he set up a construction firm a year later with his friend Abraham Zuckerman.
From the beginning, they knew they had to find a way to remember their protector. "After the war he couldn't find himself," said Pantirer. "He was too big of a man to start over."
"When we started the business - we came in 1949, we incorporated in 1950 - in our first subdivision in South Plainfield, N.J., the first thing we did was put his name on a street, Schindler Drive.
Their first residential complex in 1953, four- roomed single storey homes, were then sold for R50 000. Today they build luxury houses for 40 times that price, but their greatly differing complexes have one thing in common. Each has a Schindler Street, a Schindler Drive or a Schindler Way, named for Oscar Schindler, the German industrialist who saved more Jewish lives during the Holocaust than any other person.
Zuckerman and Pantirer survived the Third Reich because Schindler gave them and 1200 other Jews work in his companies, provided them with food and protected them from the Nazi reign of terror. As a mark of their gratitude, Zuckerman and Pantirer have by now dedicated 25 streets in New Jersey to his memory. Planning authorities often queried their choice of names, they say, but none objected when they made known the reasons for their requests.
"From then on, every project that we had that we put in the infrastructure, we put in the name Oscar Schindler. Sometimes people would say 'Who is this?' When we told them they didn't care, they would say 'We want to live on a street with an English name, a French name,' but we didn't pay any attention.
"After the movie, when Schindler became a household word, they came and showed me the envelopes they received from people, with their address, Schindler Drive. They were so proud to be on Schindler Drive."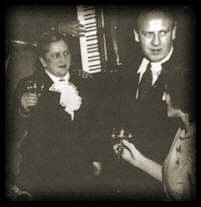 Zuckerman and Pantirer's devotion didn't stop with street naming. From 1957 until he died in 1974, the two helped Schindler financially as well with money and air tickets, sponsoring his trips to America, where they would buy him clothes and shoes.
"We did it so that he wouldn't think it was like charity," says Zuckerman. "It was a gesture like - he got a coat, I got a coat. I'd say, 'I need one too.' "Besides that we gave money in his hands," he added, declining to say how much, except that it was thousands of dollars.
From the early 1950s until Schindler's death in 1974 at the age of 66, Pantirer and Zuckerman extended financial support to their savior, treating him as an honored member of both their families. In 1972 Schindler came to the United States to celebrate the Pantirers' 25th anniversary, an event covered by The New York Times. Pantirer also arranged parties in his honour, with one of the last of them remembered in a photograph showing Schindler in 1972 being carried seated in a chair around the room - an honour usually reserved for wedding couples.
Pantirer's son, Larry, met Schindler on that occasion and remains in awe of the person who saved his father's life. "He still had charm and personality," recalled the younger Pantirer. "You could see the way he carried himself, even as an old man."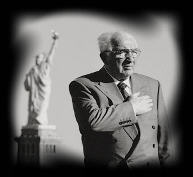 Pantirer not only assisted Schindler but also contributed to the construction of various Jewish and Holocaust museums, and founded, in Schindler's name, a bursary for Hebraic studies in Jerusalem, again with Zuckerman.
Their primary goal is to express their everlasting gratitude to the man who saved them both from almost certain death. Their second goal is to honor the memory of all the Jews who perished in their boyhood town of Cracow. Through all the years, and all the conversations they had when they would get together in America, Europe and Israel, the big question always remained: Why? What prompted Schindler to act as he did, at tremendous risk to himself?
Pantirer thinks he heard the answer. "He came to my house once, and I put a bottle of cognac in front of him, and he finished it in one sitting. When his eyes were flickering - he wasn't drunk - I said this is the time to ask him the question 'why'.
Why did he do it ?
"And his answer was, 'I was a Nazi, and I believed that the Germans were doing wrong ... when they started killing innocent people - and it didn't mean anything to me that they were Jewish, to me they were just human beings, menschen - I decided I'm going to work against them and I'm going to save as many as I can.' And I think that he told the truth, because that's the way he worked."
But for these Schindlerjuden, as they are called, the "why" is not as important as the fact that he did what he did, and that he be remembered for it. That he was a man who, according to Pantirer, "liked three 'W's - wealth, women, and whiskey" is immaterial. Adds Pantirer, "If he wouldn't be that way, maybe he wouldn't have taken the risk that he took. He took a tremendous risk."
Like most survivors, Pantirer always felt a need to explain how his survival was nothing less than a miracle. While there was a finite number of ways people could die in the
Holocaust
- gas, starvation, shooting, torture, suffocation, electrocution - every one of the hundreds of thousands who survived did so through a unique combination of circumstances.
For decades, the Schindlerjuden were telling people their story, and were frustrated that not many seemed interested in hearing it. When Keneally's book was published in 1982, they finally had something in hand that told their story, which is more than most survivors enjoy.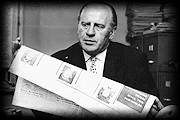 Eleven years later, they hit the jackpot: Their story was made into a successful, Oscar-winning film by no less than Steven Spielberg, elevating their experiences to the celluloid hall of fame for eternity.
And not only was their story being told and preserved for future generations, but so was Schindler's, thus honoring their savior - arguably, as described on the cover of Keneally's book, someone who "single-handedly saved more Jews at greater risk than any other person in World War II."
"All of a sudden people ask me - 'You're a Schindlerjude?" says Murray Pantirer. "It makes you feel a little special, very proud ..."
Louis Bülow
sources:
New Jersey Jewish News
Dispatch Online
The Jerusalem Post