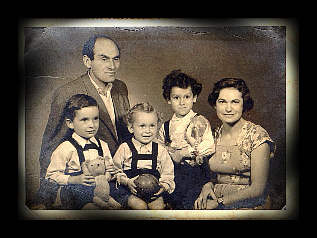 The young Perl family - circa 1954

Post war life

One day Anna heard that her father had been killed only days before the Liberation. Later she found out what happened to her sister, Erna. "Someone told me they put her on a boat with 300 other young girls and took it out and sank it. It was near the end, and they were trying to kill as many Jews as they could."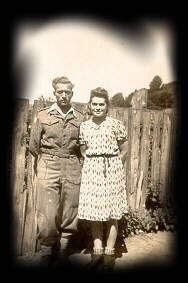 Right after the war, Anna was reunited with a surviving cousin - Herman Schleichkorn, who spent the war fighting in the Jewish Legion of the British Army. Armin is still alive at 87, living in Montreal

Her belief in God was severely shaken. She was taught that God was good and just. If there was a God she thought, then how could he cast such horrible fate upon her. Why was she put on the Schindlerís list and to survive but not her sister? And after experiencing the horrors of the war, after witnessing humans torturing, burning, hanging and shooting other innocent human beings, her faith in all humanity was shaken as well. In face of all this, one might understand if she choose to renounce God, and end up living a life of hatred and vengeance. Would Anna choose this path? But no, this was not to be ...

Jano Perl

Soon after the war Anna met Jano Perl, another Holocaust survivor trying to rebuild his life. They fell in love, settled in Slovakia, married and started a family. Life continued to be hard. After Nazism, came a brief period of freedom. Jano resurrected his family business, which was expropriated and run by non-Jews during the war.

Freedom lasted only three years when the Communists took over. Stalinism and harsh anti-Semitism set in for a long time. Once again, Jano lost his business. Branded as intellectual, capitalist, and a Jew, he was sent to harsh labor. He felt lucky to stay alive. Anna was always at his side helping to scrape a living and raise a family. In 1965, the family immigrated first to Israel, and then finally settled in the United States.

Thirty years after the start of the war, freedom, peace, prosperity and comfort finally arrived.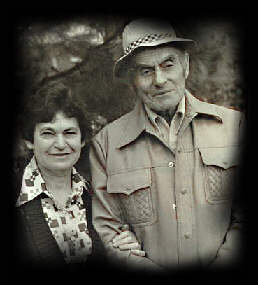 Anna and Jano Perl

Anna told the family a little bit about her war experiences, about Auschwitz and about Oscar Schindler, but she never showed hatred towards anyone. She chose to burry her pain mostly inside, working hard to nurture her young family.

After some years of doubt, she started believing in God once more, thanking him for giving her home and family again.

She started practicing her Jewish traditions as her mother taught her. It was her obligation, she felt, to carry on the Jewish heritage, because she was chosen to live, she was chosen to pass life on to the next generation, and that was her destiny. She was thankful for what she had.

Anna`s dedication did not stop with her family. She always treated people with fairness and respect. She worked for various charities, including WYCO and Hadassah, collected donations for other charities and gave to the needy as much as she could afford. She lived a quiet and simple life, working as a seamstress to help support herself and her family, and later caring for her grandchildren.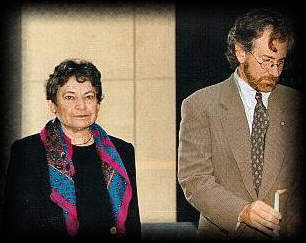 Anna Duklauer Perl with Steven Spielberg

Annaís final call in life came after the movie Schindlerís List was made. The spotlight came upon her, and despite the fact that she did not like talking much about her war experiences, she felt that it was time to speak up, to let people know that it really all happened, to tell them to renounce violence and prejudice.

She felt it was her duty and she would become a living witness to the horrors of the war and tell her audiences that the movie was absolutely true and accurate. She spoke in churches, on television, at the White House, and in public schools.

Julius Perl, the youngest of the three children, recalls how Anna was invited to speak at his sonís elementary school. The entire audience was mesmerized, listening quietly trying to hear the soft voice of the frail woman. Her talk was periodically interrupted by sobs heard in the audience. Later, children would write many letters, thanking Anna for telling them about the Holocaust, many saying that no single book or movie could be as powerful as her living presence.

Over the years Anna heard bits of news about Oscar Schindler from others on "The List". Unloved and unrecognized at home, he reached for the bottle. He had become an alcoholic during the war and struggled to wean himself off the habit. "He was like in the movie", Anne said, "Very handsome. A ladies`man. And he had this huge ring. We used to say you could see him coming from the light of his ring."

She didn't remember the exact day, but it was sometime in 1974 when she heard that Oscar Schindler had died. "I think a little bit of us all died, too", she said, "If it weren't for Oscar Schindler, we wouldn't be here."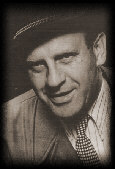 Schindler`s life after the war had been a long series of failures. His clear indictment of German war criminals nourished the hatred that many felt for him. People spat at him, he was sworn at in the streets and stones were thrown at him. He was deeply unhappy, troubled after Germany's defeat by what he feared was the return of Nazism.
Today Oscar Schindler`s name is known to millions as a household word for courage in a world of cowardice and brutality - the flawed hero who saved hundreds of Jews from Hitler's gas chambers. Schindler died in Frankfurt on the 9th of October, 1974, at an age of 66. He wanted to be buried in Jerusalem. As he said:"My children are here .."
When Anna Perl died in March of 1997, three rabbis from different denominations spoke at her funeral. Julius felt privileged to read his momís eulogy. There is quote that he felt particularly poignant that day: ďWhen you were born, you cried, and the world rejoiced.... Try to live your life so that when you die you will rejoice, and the world will cry.Ē
Anna and Jano Perl were blessed with three children and she survived to see all her ten grandchildren. Thirteen of the six thousand Schindler survivors ...

Louis Bülow

Julius Perl

Sources:

Fred Kirsch, Staff Writer,The Virginian-Pilot