Auschwitz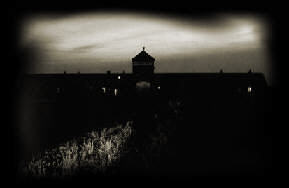 Auschwitz-Birkenau became the killing centre where the largest numbers of European Jews were killed. After an experimental gassing there in September 1941 of 850 malnourished and ill prisoners, mass murder became a daily routine. By mid 1942, mass gassing of Jews using Zyklon-B began at Auschwitz , where extermination was conducted on an industrial scale with some estimates running as high as three million persons eventually killed through gassing, starvation, disease, shooting, and burning ...

9 out of 10 were Jews. In addition, Gypsies, SovietPOWs, and ill prisoners of all nationalities died in the gas chambers. Between May 14 and July 8,1944, 437,402 Hungarian Jews were deported to Auschwitz in 48 trains. This was probably the largest single mass deportation during the Holocaust.

Auschwitz/Birkenau, Nazi Germany's largest concentration and extermination camp facility, was located nearby the provincial Polish town of Oshwiecim in Galacia. Auschwitz was established by order of Heinrich Himmler on 27 April 1940.


In Hermann Langbein's Menschen in Auschwitz Lucie Adelsberger describes the life of the children at Auschwitz:
"Like the adults, the kids were only a mere bag of bones, without muscles or fat, and the thin skin like pergament scrubbed through and through beyond the hard bones of the skeleton and ignited itself to ulcerated wounds. Abscesses covered the underfed body from the top to the bottom and thus deprived it from the last rest of energy. The mouth was deeply gnawed by noma-abscesses, hollowed out the jaw and perforated the cheeks like cancer.
Many decaying bodies were full of water because of the burning hunger, they swelled to shapeless bulks which could not move anymore. Diarrhoea, lasting for weeks, dissolved their irresistant bodies until nothing remained .."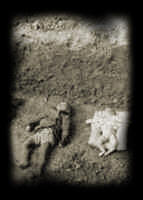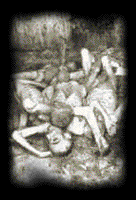 At Auschwitz children were generally killed upon arrival. Children born in the camps were generally killed on the spot.
So called camp doctors, especially the notorious Josef Mengele, would torture Jewish children, Gypsy children and many others. "Patients" were put into pressure chambers, tested with drugs, castrated, frozen to death, and exposed to various other traumas.
A survivor, Eva Mozes Kor, later recalled how a set of Gypsy twins was brought back from Mengele's lab after they were sewn back to back. Mengele had attempted to create a Siamese twin by connecting blood vessels and organs. The twins screamed day and night until gangrene set in, and after three days, they died ...
At Auschwitz Professor Carl Clauberg injected chemical substances into wombs during his experiments. Thousands of Jewish and Gypsy women were subjected to this treatment. They were sterilized by the injections, producing horrible pain, inflamed ovaries, bursting spasms in the stomach, and bleeding. Men and women were positioned repeatedly for several minutes between two x-ray machines aimed at their sexual organs. Most subjects died or were gassed immediately. Men's testicles were removed and sent to Breslau for histopathological examination.

Likewise at Auschwitz Dr. Herta Oberhauser killed children with oil and evipan injections, removed their limbs and vital organs, rubbed ground glass and sawdust into wounds.
Near the end of the war, in order to cut expenses and save gas, "cost- accountant considerations" led to an order to place living children directly into the ovens or throw them into open burning pits.



After WW2, in October of 1946, the Nuremberg Medical Trial began, lasting until August of 1947. Twenty-tree German physicians and scientists were accused of performing vile and potentially lethal medical experiments on concentration camps inmates and other living human subjects between 1933 and 1945. Mengele was not amongst the accused.
Fifteen defendants were found guilty, and eight were acquitted. Of the 15, seven were given the death penalty and eight imprisoned. Herta Oberhauser, the doctor who had rubbed crushed glass and sawdust into the wounds of her subjects, received a 20 year sentence but was released in April 1952 and became a family doctor at Stocksee in Germany. Her license to practice medicine was revoked in 1958.
Carl Clauberg was put to trial in the Soviet Union and sentenced to 25 years. 7 years later, he was pardonned under the "returnee" arrangement between Bonn and Moscow and went back to West Germany. Upon returning he held a press conference and boasted of his scientific work at Auschwitz. After survivor groups protested, Clauberg was finally arrested in 1955 but died in August 1957, shortly before his trial should have started.

After the war it appeared that only one man managed to get prisoners out of Auschwitz, the Gate to Hell - Oscar Schindler, one remarkable man who outwitted Adolf Hitler and the Nazis to save more Jews from the gas chambers than most of the heroic rescuers during WWII ...