Men of Evil
|
home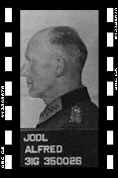 General Alfred Jodl was Chief of the OKW and Hitler`s closest military adviser - found guilty as a major war criminal on all four counts, including war crimes and crimes against humanity.
Alfred Jodl was born in Aachen, Germany. A Bavarian gunner officer he was appointed in 1938 head of the operations section of OKW (Oberkommando der Wehrmacht), the inter-service staff with which Hitler had replaced the old War Ministry and deposed the High Command. His role was executive rather than decision making, but he performed it brilliantly, giving concrete military form to the Fuhrer's strategic decisions. He attended all the twice-daily situation conferences and was principal source of technical information and advice.

Alfred Jodl became general of artillery in 1940, the planning genius of the German High Command and Hitler's chief adviser.
Later Alfred Jodl initialled an order signed for Hitler by Keitel, which pro-vided that enemy civilians guilty of offenses against German troops should be killed without a military trial, and that punishment could be waived in the case of German soldiers who committed offenses against enemy civilians. He knew of the deportation of workers, for he once told Hitler that the military commander of France had reported that over 220,000 workers had been deported into the Reich in the past six months.
On 18 October 1942 Hitler ordered that commando troops, even if in uniform, should be killed, not only in battle, but in flight or while attempting to surrender. This order was issued by Jodl's department.
Jodl was hanged at Nuremberg on 16 October 1946.