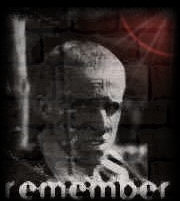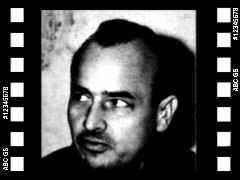 Hans Frank
Hans Frank - one of Hitler's top lieutenants, Governor-General of occupied Poland. A war criminal and a mass murderer, who was executed in Nuremburg for his presiding over the extermination of Poles and Jews.
Hans Frank was Reich Minister without portfolio, leader of the National Socialist Lawyers Bund 1933-1942, member of the Reichstag, President of the International Chamber of Law 1941-42 and of the Academy of German Law. SS-Obergruppenführer - and Governor-General of the occupied Polish Territories October 1939-1945.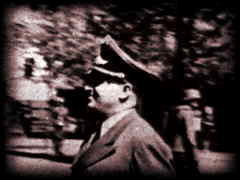 Hans Frank in Poland
During WWII the successful annexation of Austria and the successful conquest, first of Czechoslovakia and then of Poland opened up vast territories of available space to Hitler for colonization and resettlement. It also brought into focus the "Jewish Problem" and the quest for a "Final Solution."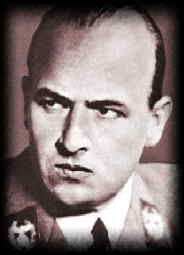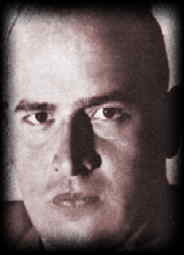 Hans Frank, the Nazi butcher
The General Government, headed by Hans Frank, seemed to offer the greatest potential for lebensraum. First, however, there was the problem of clearing the area of Polish nationals and the several million Jews who lived in the area.
In a speech December 16, 1941, Hans Frank said:"We cannot shoot these 3.5 million Jews, we cannot poison them, but we will take measures that will somehow lead to successful destruction; and this in connection with large-scale procedures which are to be discussed in the Reich, the Government-General must become as free of Jews as the Reich .....We must destroy the Jews wherever we find them and wherever it is at all possible, in order to maintain the whole structure of the Reich... "
Under Hans Frank`s ruthless rule, the nation of Poland disappeared as a national entity and became a slave state, with the murder of Poland's leaders, educated elite and clergy, and the extermination of nearly all Poland's Jews.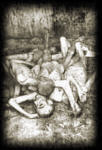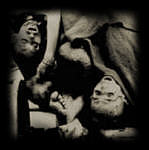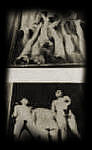 Auschwitz Bergen-Belsen Belzec Sobibor Treblinka
During WWII over half a million fighting Poles , and 6 million civilians died. Approximately 5,400,000 were the victims of prisons, death camps, executions, annihilation of ghettos, starvation and ill treatment. So many Poles were sent to concentration camps that virtually every family had someone close to them who had been tortured or murdered there.
There were one million war orphans and over half a million invalids ...

Hans Frank:"We must destroy the Jews wherever we find them ..."
Hans Frank converted to Roman Catholicism after his arrest, and at the Nuremberg trial he declared: "A thousand years will pass and the guilt of Germany will not be erased."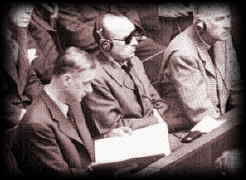 Hans Frank at Nuremberg
Hans Frank was found guilty as a war criminal and sentenced to death by hanging. He was the only one of the condemned to enter the chamber with a smile on his countenance. He answered to his name quietly and when asked for any last statement, he replied in a low voice that was almost a whisper:" ...I ask God to accept me with mercy".